Patterns & Tooling
Patterns can be made by conventional methods or by modern CNC techniques.This allows us to produce the most economical pattern / tool for the casting requirement.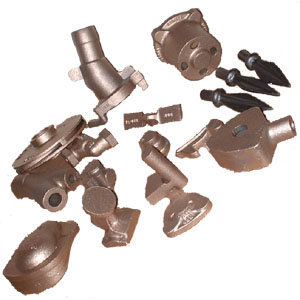 We can use existing parts whether broken or worn out, to use as a pattern in some circumstances.
We can make the following types of patterns:
Wood - Production, multi impression on boards, in compacts (frames) or loose patterns.


Resin - Production, multi impression made conventionally or by CNC methods.


Metal - Usually multi impression production patterns made from a wooden master.


Polystyrene - Only used for one offs, and when wood pattern costs are high.


Existing Part - We can use an existing casting, add material to cover shrinkage and machining.


Tooling - Cast iron dies for gravity die casting.


High grade steel dies for pressure die casting.


Aluminium dies for investment casting.


Please contact us on 077 22277631 or use our online enquiry form and we'll call you back.